____________________________________________________________


Attention Parents!
The Wenonah Swim Team recognizes the invaluable support of our team parents and their contribution to the success of our swimmers and divers. The team counts on the strong support of our parents since no swim team can run well without the support of the parents. The sport of swimming demands a lot of your child and we owe it to them, as well as to the team, to volunteer and help run the meets we host, as well as the ones we attend. We expect our children to strive for excellence. As parents, we also strive to be excellent role models as we take great pride in maintaining our well-deserved reputation for hosting great meets.
Our Volunteer Coordinator, Dawn Partridge, has set up a very convenient way to sign up for different jobs at the "A" and "B" meets, time trials, and other Wenonah Swim & Dive Team events.
Click on the link below and choose your job!  Please contact Dawn with any questions about volunteering and thanks for helping to make the meets and this season run smoothly.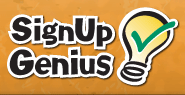 www.SignUpGenius.com/go/30E044CA4AC2EA64-meet2